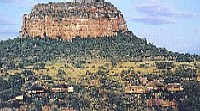 In a remote part of the bushveld region in South Africa's Northern Province lies a private game reserve, where Nelson Mandela, South Africa's first black president, went on holiday when he was first released from prison. This wild retreat, known as Entabeni game reserve was a perfect hideaway for the former president, who reportedly loved it immensely and endeared himself to the local labourers by walking their children to school each morning.
This bushveld region, known as the Waterberg is where I grew up as a child on my parents' farm. I echo the words of South African poet and author, Eugene Marais, who in his book The Road to the Waterberg, wrote: '... for the first time in my life I entered the Waterberg, the mysterious region of my boyhood. I was caught up by a sense of vastness which held me breathless for a moment.'
On my first return to this terrain after many years absence, I too was again spellbound by the wildness and beauty of the area, which is fast rivalling Mpumalanga province as tourist destination with its increasing number of game reserves. On the 7000 hectare Entabeni reserve, one can experience all the natural attractions in a malaria free environment.
Entabeni offers mountainous areas - part of the 150km Waterberg range runs through it - and is characterised by pink and gold outcrops of rocks, waterfalls, crystal-clear mountain pools, streams and rivers - and a spectacular view of a valley far below, overlooked by an awesome rock outface, dubbed Hanglip Rock. There is also a delightful picnic spot with a covered patio and chairs in the mountains, alongside a huge rock pool - offering a bit of luxury in the wilderness. T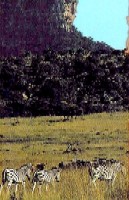 Then there's Lake Entabeni, which holds one million cubic metres of water and is one of the largest private lakes in the region. It features waterfowl, hippos, crocodiles and a boma (a hideout) where animal lovers can securely watch the animals and listen to nocturnal animal and birdcalls, plus a variety of fish, like black bass and yellowfish.
Only two and a half hours from Pretoria, Entabeni is an ideal weekend getaway, though you will want to stay longer. The reserve currently has around 1500 animals, including the famous 'big five' (lion, leopard, elephant, rhino and buffalo), 17 species of antelope including South Africa's famous springbok, plus giraffe, zebra and warthogs. There are 125 bird species and more than 100 tree and plant varieties. Among the flora are milk wood trees, yellowwood, acacia, wild protea and the protected Eugene Marais cycad.
Lake Entabeni provides guests a choice of accommodation: either at the lakeside chalets, or in wooden mountain tree houses - all with breathtaking views of the reserve and luxury en-suite rooms. All lodges are self-catering but at the main reception complex there is the lovely Serengeti restaurant, which offers delicious lunch and dinners, picnic baskets filled with scrumptious goodies, and huge farm-style breakfasts.
There are two safari game drives a day, early in the morning or in the evening when guest are ferried in open land rovers, allowing for incredible animal sightings and photo shoots, around the vast reserve.
Not often on the usual tour itineraries to South Africa this retreat is a wonderful 'get away from it all', as our beloved erstwhile president found. I for one will be back.
Copyright (c) Bev Mortimer