SAfricaVoyage will take you on a voyage of discovery in southern Africa. It aims to provide a kaleidoscope of travel articles, destinations, conservation news and events, wild animal stories and photographs.
This site is written and compiled by Bev Mortimer, a freelance travel writer, based in the beautiful Eastern Cape in South Africa. If you would like your southern African travel destination or tourist spot featured here, please do not hesitate to email me.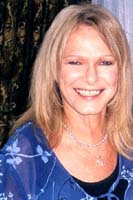 I was born on a beautiful farm in the Waterberg, in the Limpopo (northern) Province of South Africa. My father once had a tobacco plantation there. I spent my childhood alternating between boarding school in Pretoria and holidays on the farm. Sadly, my father sold this farm and went to retire in Natal, where I trained as a an English and French high school teacher. After a short teaching spell, I became a journalist and before long I moved to Johannesburg to work on major publications. I am still a freelance travel writer, but have on request by some locals become an editor/owner of a small, free, local community newspaper in the Eastern Cape..

Interests
My greatest love is travel. I love going to unspoilt beaches and seeing wild animals in the numerous game parks. I have travelled extensively - to the US, South Amercia, Europe, the Indian Ocean islands and to neighbouring African countries. My favourite overseas places are France and the Seychelles.
I also love to write and do research on the Internet. In addition I love swimming, reading, antiques, wild animals, birds, interior decorating for friends and new technology.

Education
I went to Pretoria High School for Girls, and then went to Rhodes University in Gahamstown for a year, where I did a professional secretarial course. This was followed by a Univeristy Degree at Natal University in Durban (majoring in French and English) and an unfinished Communications third major at UNISA.
I am also a registered South African tour guide and in my spare time take US, UK and French tourists around South Africa.

Professional Experience
I have had five years experience as a high school teacher, and 20 years experience as a writer. My writing career has taken many forms - from a journalist on major publications like the Natal Mercury and the ex Rand Daily Mail, to being a foreign correspondent for Agence France Presse (the highlight of my career), to being an editorial assistant for Oxford Univeristy Press in Cape Town, to an Associate Editor for UCT News, to running my own PR agency for a while (writing press releases for companies in the IT industry) and to running online articles for a TV website.
I am currently writing ad hoc travel articles for publication. I have written an amusing children's book and am looking around for a graphic artist to illustrate it before publication. I am writing a book on 'Life as a tour guide in South Africa' - but this is coming along slowly.