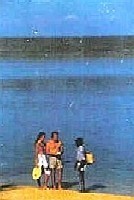 The magical island of Reunion is like 'a little bit of France in the sun'. A very French island, it differs from traditional clichés written about tropical islands - that of sandy beaches and coconut palms.
Not that it doesn't have magnificent golden or black beaches and plenty of palms, but it offers many other riches, while also being steeped in history, amusing folklore and anecdotes. This Indian Ocean island is a mountainous and volcanic terrain with a live volcano, one of the most active in the world.
The mountainous regions with peaks of more than 3000 metres, hidden valleys and countless waterfalls offer tourists many sporting adventures - paragliding, climbing up behind waterfalls with chains, water rafting and more than 1000 hiking trails, to mention just a few. Developed through volcanic activity millions of years ago under the seabed, this island has a surface area of 2512 sq km and 207km of coastline.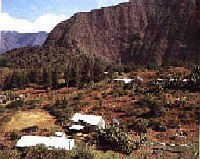 Its highest peak, Piton de Neige (snow peak) is 3069 metres high. This volcano stopped erupting about 20 000 years ago, but its sister, the Piton de la Fournaise (furnace peak) first erupted about 50 000 years ago and still frequently blows its top. Piton de la Fournaise, 2631 metres in height, is under constant surveillance by scientists and government experts who can be forewarned of impending eruptions, so as to evacuate the inhabitants if necessary.
Living in Reunion means adapting to the eccentricities of this volcano, but the local inhabitants, the Reunais, have adopted a laissez faire attitude and welcome the foreign tourists and scientists who come to witness this phenomenon. Moreover, the rich volcanic soil has spawned many forests of tamarinds, redwood and fern trees and beautiful 'yellow flower' type shrubs.
Farms in the volcano's vicinity, like around Bourg-Murai, have evergreen grazing, which supports a thriving dairy industry. Elsewhere this soil yields abundant tropical fruit, vanilla and geraniums (for making geranium oil). Other locally produced products include rum from sugar cane, and local cheeses, done the French way.
The hot months on the island are from January to March and the coldest from July to August. In winter the Piton de Neige lives up to its name and in early times slaves used to trek to the top to fetch ice for their masters.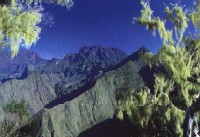 The volcanic activity has over many years resulted in gigantic craters and valleys surrounded by mountainous peaks and deep ravines, with rivers far below, pushing their way to the coast. Often completely surrounded, these valleys called cirques (mountain amphitheatres) are where inhabitants in tiny villages eke out a primitive existence with age-old technology.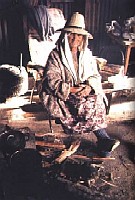 Many of these people are descendants of fugitive slave bands who escaped from their slave lords on the coast. There are three main amphitheatres - Salazie, Cilaos and Mafate. The latter (see photo, above) is completely inaccessible by road and can only be reached by a 27km trek on foot, or by paragliders and helicopters. For mountaineers Mafate is an unspoilt wilderness, attracting outdoor enthusiasts who stay overnight in little log cabins for around R100 a night.
Discovered in the 16th century around 1512, Reunion was once inhabited by giant parrots, turtles, tortoises and fat birds that couldn't fly, like the Dodo - apparently so delicious that the first settlers ate them all up. These French settlers were exiles who lived in giant caves at St Paul on the west coast. For them it was paradise with all the animals and fruit and they first named the island Bourbon.
Today Reunion is a department of France following French laws and customs. The population of around 700 000 is made up of French people from the motherland and descendants of early settlers and slaves from Madagascar, India and China. Languages spoken are French and Creole.
A plus for men is that there are more women than men on this island - almost seven women to one man - since many men leave to further there education in France and never return. For visitors St Denis is a must with its antiquated streets and shops, most of which still boast the quaint neo-classical style architecture with verandas and shuttered doors and windows in bright colours.
Houses in this capital range from sumptuous villas to cute little house called 'cases'. Everything closes between 12 and 2pm - like in France - so people can go home for lunch or siesta.
In this bustling city restaurants range from Chinese, Indian, Creole to French and Italian and prices range from R80-R150 for a meal. The spicy Creole food is marvellous and my favourite was curried shrimps and calamari. Locally produced products are cheaper than imported items, since a local Bourbon beer costs around $30 but a tot of whisky in one of the top hotels sets one off at least $60.
Most of the Reunion villages and towns like St Paul have many stories to tell. At the French caves there is a shrine to St Expedit. Now while most of the island's towns and shrines are named after famous saints this shrine never had a name. Sometime in the 17th century the Pope sent a statue of a saint to the convent near St Paul. The nuns being very far away from worldly affairs did not know who had sent them the statue or its name. But on the delivery box was one word expedite, and so the statue was christened.
Opposite the caves along the sea shore there is a cemetery where an infamous pirate called La Buse is buried. He was hung by the neck without ever revealing where he hid his booty, and yes, somewhere on this island, among its many attractions, there is still a fortune in jewels and gold waiting to be discovered.

Photos courtesy of Reunion Tourism and Forestry departments.
Article Copyright (c) Bev Mortimer